Zenroren petitions government on key labor-related policies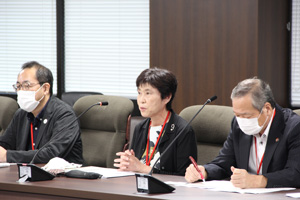 The National Confederation of Trade Unions (Zenroren) has petitioned the Ministry of Health, Labour and Welfare for improvements in labor-related administration in the midst of the new coronavirus pandemic. On September 28, Zenroren President Obata Masako and Secretary-General Kurosawa Koichi met Ihara Kazuhito, director-general for policy planning and coordination of the ministry. In her opening remarks at the meeting, Obata requested the government to take every possible measures to stop more people from losing their jobs amid a worsening employment situation due to the pandemic and put a greater focus on gender equality in taking steps to improve conditions of contingent and women workers who are most affected by the worsening labor market. During the discussion with the ministry official, the Zenroren leaders took up measures needed to help those who are temporarily forced out of business or who have lost their jobs, by establishing a national universal minimum wage system, and substantially increasing minimum wages as soon as possible. They also discussed remote work and work without an employment contract. They asked the ministry to play an active role in labor-related administration and discuss with them from time to time.

Zenroren President Obata Masako's opening remarks
I would like to begin by expressing our deep respect to the staff of the Ministry of Health, Labour and Welfare, for their day-to-day strenuous work to prevent the spread of the new coronavirus and to ensure the compensation for business closures and job security. We also offer our gratitude for your efforts.
Let me take up two issues.
One is about the current worsening employment situation in the midst of the coronavirus pandemic. It came to light on September 24 that 60,439 people lost their jobs due to dismissals or unilateral termination of work contracts or were likely to lose jobs in connection with the pandemic. That's an increase of 10,000 from August 31, when the number topped 50,000. It is particularly serious that an increasing number of contingent workers are facing dismissals or unilateral termination of contracts.
According to the ministry's labor force survey for July, which was announced on September 1, the number of completely unemployed persons stood at 1.97 million. No end to a decline in the number of employees is in sight. Contingent workers decreased by 1.31 million from September last year. Decline is much larger among women.
With another spread of infection in autumn and winter feared, the pressing need is to stop a further increase in unemployment. We request the government take all possible measures on this task.

There is a growing concern that school graduates next spring may experience a hard time to find job. A survey conducted by the All Japan Teachers and Staffs Union shows that job offers for students graduating from senior high school next March have decreased mainly in manufacturing, restaurants, hotels and other service industries. We request that the government increase measures to help students, including senior high students graduating next March.

The other is about issues relating to filling gender gaps and eliminating the inequality between contingent workers and permanent workers. As I said earlier, the worsening employment situation is particularly militating against contingent workers. About 60 percent of women workers are contingent workers.
The workers in health care and welfare services are frontline workers in the battle against COVID-19, and 70 percent of them are women. Everyone knows that many of the women workers, who support lifelines, are at risk of infection not only at frontline healthcare facilities but also at the workplaces of childcare, retails, restaurants and cleaning business. Why are women forced to work as cheap and easy contingent labor? I think that should be seen against the background of gender gaps.

In Japanese society, there is a deep-seated notion that men go to work while women do house chores. Men are forced into excessively long hours of work that could cause karoshi (death from overwork). Many women, who are forced to fulfill family responsibilities doing house chores, childcare and elderly care, are excluded from positions as permanent workers. Most of them are low paid on the grounds that they have complementary roles for family income.
I think that the coronavirus pandemic, which has shifted heavier burden onto women, has brought the harsh conditions facing the Japanese women into relief.
In order to achieve gender equality in the workplace, equal pay for equal work, equal employment opportunity and ending excessively long working hours are indispensable. I would like to strongly request the government to hold fast to the principle of gender equality in all its policies.
Finally, I understand that our consultation with the director-general for policy planning and coordination of the ministry has taken place during the period of shunto (spring labor offensive). This year's consultation has had to be delayed due to the coronavirus pandemic. I ask you to continue to hold talks with us. I hear that you have had policy consultation with the Japanese Trade Union Confederation (JTUC-Rengo) and that you have called on labor organizations to cooperate in infection prevention efforts in the workplace.
I conclude my remarks by asking the Ministry of Health, Labour and Welfare to run the consultation based on the administrative principles of "fairness, justice, and swiftness."