Statement
We will put greater energy into struggle to block adverse constitutional revision and defend livelihoods and jobs against soaring prices
On 7/10 House of Councilors election results
Kurosawa Koichi
Secretary-General
the National Confederation of Trade Unions (Zenroren)
July 11, 2022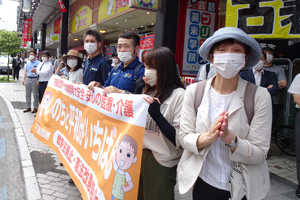 In the July 10 House of Councilors election, the ruling Liberal Democratic Party garnered 63 out of 125 seats that were up for grabs. The Nippon Ishin Japan Innovation Party, which instigates neoliberal policies and adverse constitutional revision, doubled its seats to 12. As the result, these parties advocating constitutional revision, including Komeito and the Democratic Party for the People, have 177 seats, including those not up for reelection this year, now have two-thirds majority in the upper house.
Candidates put up jointly by opposition parties and the citizens' movement secured hard-fought wins in three out of 32 single-seat constituencies?Aomori, Nagano, and Okinawa. The victory of the "All-Okinawa" candidate, which called for opposition to the new US military base construction at the Henoko district of Nago City, would help win the Okinawa gubernatorial election in autumn.
The National Confederation of Trade Unions (Zenroren) took up the House of Councilors election as a struggle for political change conducive to realizing the workers' needs. It opposed the government plan to double military spending and called for substantial wage increases, including raising the minimum wage to 1,500 yen everywhere in the country to raise wages from bottom up, for cutting the consumption tax rate to 5 percent from the present 10 percent, for the improvement of social services, and for free education. It also called for opposition to an adverse amendment to the war-renouncing Article 9 of the Constitution, which would pave the way for war. Zenroren called for these demands to be affirmed as election pledge while developing a campaign to urge people to go to the polls. It expresses thanks to officers and members of Zenroren-affiliated industrial federations and local organizations.
A Jiji Press survey published on election day shows that 30.2 percent of the respondents said they would vote by hoping for policies to improve the economy and the job market; 15.7 percent for better pension, nursing care, and health care; 11.1 percent for better childcare policies and measures to deal with aging society; and 4.7 percent for constitutional revision. It's clear that none of the neoliberal policies or constitutional revision proposals, which are promoted by the Liberal Democratic-Komeito coalition government, was approved in the election.
Soon after vote counting began, Prime Minister Kishida Fumio, Liberal Democratic Party Secretary-General Motegi Toshimitsu, and Nippon Ishin leader Matsui Ichiro talked a lot about a constitutional revision proposal by the Diet. It is untenable, of course, to proceed with discussions on constitutional revision without letting people know its content. It is unacceptable that the war in Ukraine or the heinous attack on former Prime Minister Abe Shinzo is used as pretext for pushing ahead with constitutional revision aimed at establishing a Self-Defense Forces clause and creating an emergency provision.
Zenroren will continue to tell people in and out of the workplace that the constitutional revision is aimed at pushing for major arms buildup to allow the country to wage war and for establishing measures to suppress human rights in times of war or pandemic. We will make every effort to help increase public opinion against constitutional revision. Noting that ruling and opposition parties called for "pay raises" in their electoral pledges, we commit ourselves to work hard with Zenroren-member federations and local organizations to win a uniform national minimum wage at 1,500 yen per hour, give all workers a substantial wage increase, and ensure better employment and working conditions for contingent workers in order to protect people's living from sharp price hikes and to secure jobs.